Church News, Tuesday, May 26th, 2020
Dear Church Family,
Grace and Peace from our Lord and Savior Jesus Christ. We hope you all had a very good Memorial Day weekend. Thank God for those who have laid down their lives for us. What a great sacrifice.
We want to remind you that our midweek service will begin at 7pm like last week. It will be on our Livestream and the radio. We won't have any worship, we will get right into the subject matter.
First, we will take some time to update everyone on the Church plans and services. Once that's completed we will continue our live Q&A on all things prophecy and "end times".  There were many questions we weren't able to get to, and subjects we didn't get to cover.
If you have prophecy or Bible questions, you may submit them in one of 3 ways:
You can call the church at 585-398-3550
You can email them to questions@ccfingerlakes.org
Text them to a number we will provide when we begin.
As always, Jesus is the head of the Church.  We are looking to Him in all of our decisions. Our aim is the number one theme in scripture and human history; we want to glorify Him.  We're trusting the Holy Spirit to lead us since He has NEVER let us down! We believe that the Holy Spirit can, and will, make us all better through this trial as only He can do!
Maranatha,
Pastors/Elders
Church News Monday May 11th, 2020
Dear Church Family,
Grace and Peace from our Lord and Savior Jesus Christ. We trust everyone had a blessed Lords Day. Today it was announced that the Finger Lakes Region has met the criteria to begin opening. Praise the Lord! As we wrote last week, we should all be thinking, planning, and preparing to assemble again. To that end, this week, our midweek service will be much different. We will use it as an online town hall or church family meeting.
During this meeting, we'll be explaining what the Holy Spirit is showing us on how to return for services in the near future. It's difficult not to have these conversations face to face, but we believe this form of communication will be a great benefit for all of us. There are so many questions that need to be talked about and we're sure many of you are wondering. Again, this is solely for CC Finger Lakes so it will not be aired on the radio, only on Live-stream. Of course it will he recorded for those who aren't able to participate live. We will be taking questions from members of the body, and answer them the best we can with the information we have now.
If you have questions, you may submit them in one of 3 ways:
You can use either of these methods before or during the meeting. We will have someone to process those questions. Of course, we will maintain your anonymity.
In addition, during the meeting, you will be able to text your questions anonymously. We will provide the phone number at the beginning of the meeting.
Jesus is the head of the Church, we are looking to Him in all of these decisions. Our aim is His aim and the number one theme in scripture and human history. We want to glorify Him. We're trusting the Holy Spirit to lead us, He has NEVER let us down. We're looking forward to this meeting and your questions. We believe that the Holy Spirit can and will make us all better through this trial as only He can do.
Maranatha,
Pastors/Elders
Church News & Information Wednesday, May 6th
Greetings Church Family,
Now that we're into the month of May, we want to start thinking about and communicating the plan to come together again. Church leadership is getting information from local political and legal authorities to help us move forward with this plan. It's our understanding that on May 15th the state will begin a "phased" re-opening. Phase 1, will begin with the construction industry, while Phase 4, includes education. Churches aren't specifically mentioned anywhere, but of course, we believe they should be first! All of this is subject to change at any moment, but this is what we know right now. That said, as we receive more clarification on the schedule in the coming days, we will pass it on to you.
We are pleased to inform you that the Livestream can now be found on Roku! The following instructions will assist you in using it:
For any Roku device:
Install the LiveStream channel from the Streaming Channels store.
Next, navigate to the LiveStream channel.
Once there, select "Search" in the LiveStream channel.

You'll find two search categories, one for "Events," and the other for Accounts. Choose Accounts.

After that, using the on-screen keyboard, type in ccfingerlakes.
Choose "Search" in the lower-left corner of the screen.

This should bring you to the CCFL account page and display the church logo in the center of the screen.

Next, press "OK" on your Roku remote.
From here, you will be taken to the screen showing all of the recorded teachings that have been uploaded to LiveStream.
Use the arrow keys to navigate through the teachings and press the "OK" button on the remote to choose the teaching.
Finally, choose "View" from the displayed menu.
As members of the body have come in to drop off items for the food bank, we've noticed that they often look into the empty sanctuary, because they miss it. I'm sure we all feel the same way.  Therefore, we are pleased to announce that we're taking this time to finish the laminate flooring that we started last year! The carpeting that was in the sanctuary had served us and the Lord for 24 years!  This new laminate will be cleaner and much easier to maintain, and I'm trusting it will serve the Lord, and us until He comes to take us into His sanctuary! There are some pictures of the construction at the bottom of the update.
Lastly, we have begun work on a church app for mobile devices, such as cell phones, and tablets. On top of Livestream, this app will allow you to access the Church Bulletin/Events, as well as, all of the Bible Studies that are hosted on our website.  We will also be able to communicate exhortations, encouragements, and Church announcements through the app.
Stay tuned, as more information about the coming weeks will be made available, and please don't hesitate to call us for any physical needs, or counseling needs. We love you and can't wait to see you!
Maranatha,
Pastors/Elders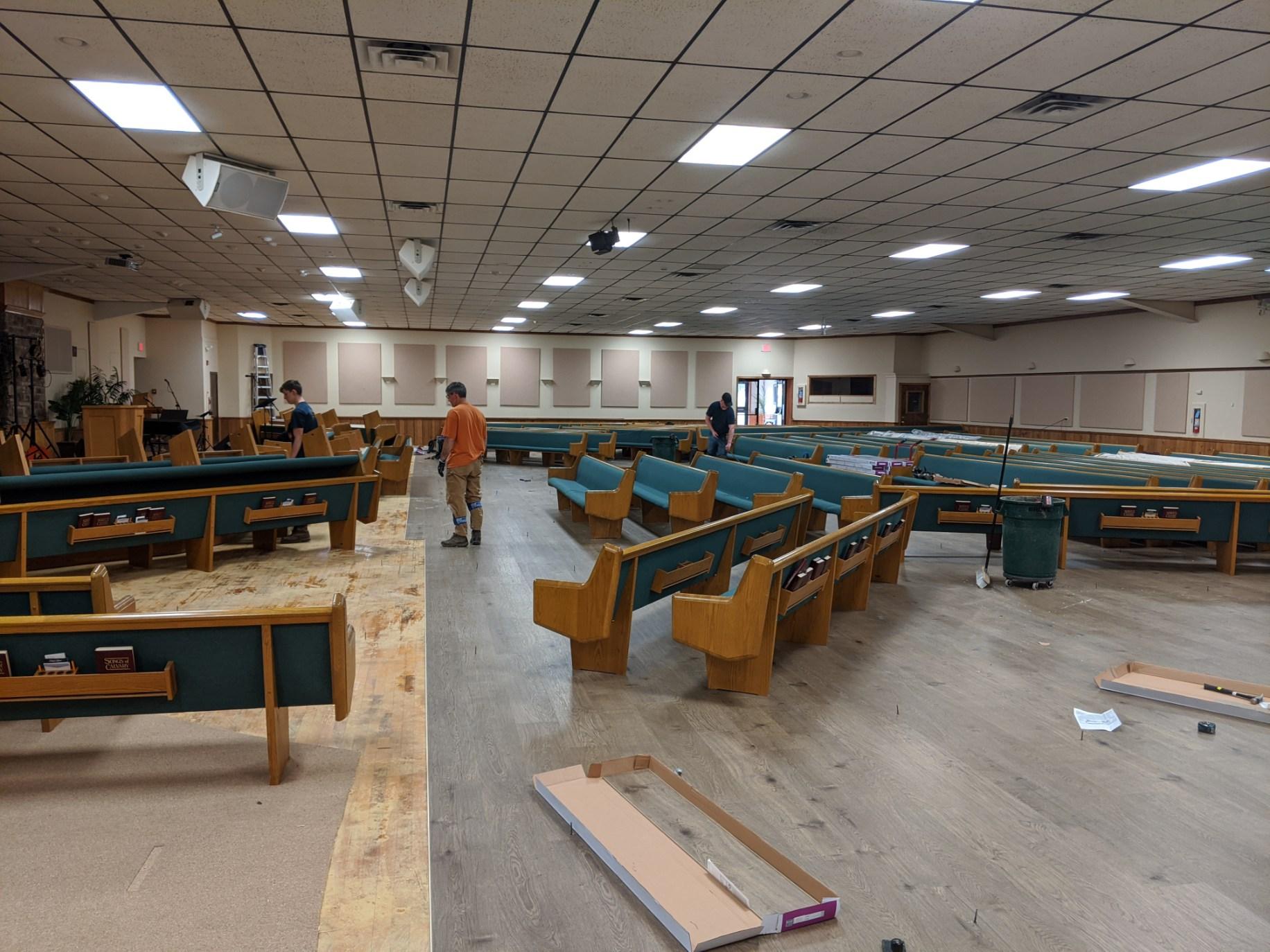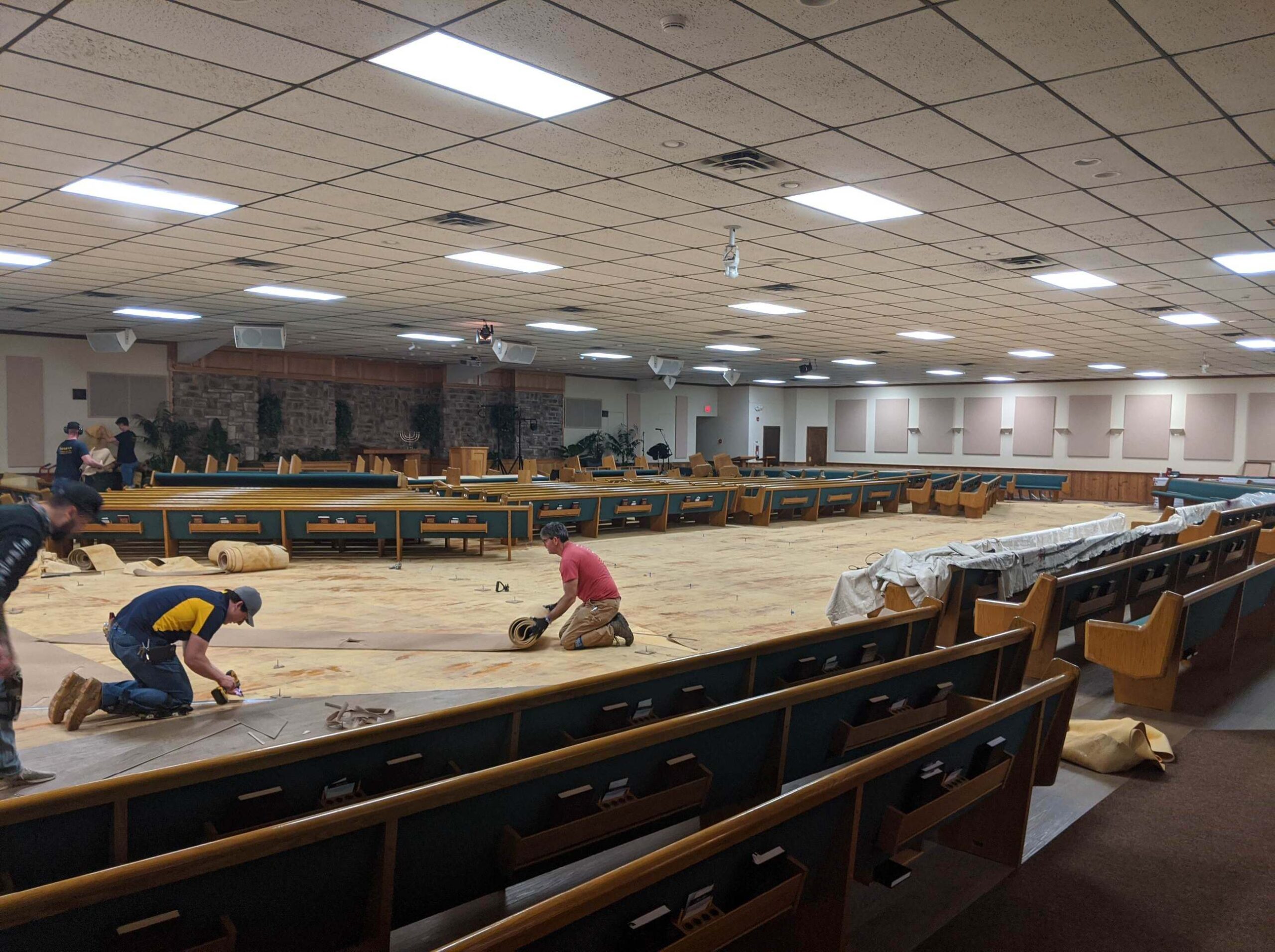 Church News & Information Tuesday, April 14th.
We are blessed to announce that we will be hosting a free Chicken BBQ Curbside Pick-Up for our CCFL church members on Tuesday, April 21st, 11 am-1 pm! The meal will be provided by our dear brother in the Lord, Marty King. King's Catering is fully licensed and will be preparing and serving the meal in a highly sanitary fashion. Each meal consists of BBQ chicken, macaroni salad, salt potatoes, and Italian bread! The curbside pick-up will be hosted in the back parking lot.
We ask that you RSVP with how many meals, you and your family, will need. You can either call the church (585) 398-3550, and speak with Sara, or leave us a voicemail with your count. Emailing us at info@ccfingerlakes.org works great as well! Again this meal is free and at no cost to you.
Please RSVP with your meal count by 5 pm on Sunday the 19th.
It is our priority, to make sure, that this is a safe opportunity to bless our church body. We will be taking every precaution necessary to ensure your safety during this time.
If you have any other needs, please let us know! We look forward to seeing all of you. Tuesday, April 21st, 11 am-1 pm.
Blessings to you,
The Pastors and Elders
Church News & Information Monday, April 6th.
Dear Church Family,
Grace and peace from our Lord Jesus Christ. We hope you are doing well and staying healthy. As this is being written, it is very sunny outside and will warm up to almost 60! For that, we can praise the Lord!
We wanted to convey a hearty "thank you" for dropping off the food and supply items for the food bank. This is who you are and have shown yourselves to be; a generous church body and thoughtful of others. It goes a long way to helping many in need.
For this week's services, don't forget that we will forego our normal Wednesday night study for a special Good Friday service on LiveStream at 7 pm. WZXV will begin broadcasting when the teaching begins at 7:30 pm. It will be a wonderful opportunity for us to take communion together, so please have your emblems ready ahead of time. It's also an open door for parents to explain to the kids the great significance of communion. Resurrection Sunday service will continue as usual; LiveStream at 10:30 am and the radio broadcast beginning at 11:00 am.
The nation has been told to brace for a very tough week regarding the death toll from the virus. Of course, New York has been the hardest hit, which makes it very difficult being so close to home. We know that you are joining with us in prayer for our leaders and healthcare workers, as they need God's help and strength to endure, persevere, be protected and encouraged in this difficult fight for other's lives.
For us as Christians, this week has always been unique as we think about the death of God's Son, Jesus Christ. It's why it is called "Holy week" for billions worldwide. Jesus told us to always keep His death in remembrance because it was by His sacrifice that all of humanity can receive the only cure for its terminal sinful condition. What a merciful gift of life is offered to everyone from the death and resurrection of Jesus
Christ. "For if by the one man's offense many died, much more the grace of God and the gift by the grace of the one Man, Jesus Christ, abounded to many." – Romans 5.15
We hope you experience His grace this week. It's always sufficient, always.
Maranatha,
Pastors & Elders
Church News & Information Tuesday, March 31st.
Dear Church Family,
As far as we can tell, most people are doing very well, which is good news to all of us. But we wanted to post an update regarding the upcoming services.
First, as many of you know, one of our Calvary Chapel Distinctive's is to place a high priority on hearing the Word of God. We are convinced of the power of God's Word and the universal need of man to hear it. This is why we have invested heavily in a good sound system with high quality on the radio station. Whether a live broadcast or a pre-recorded sermon being played on the air, we try to minimize anything that would distract from the clarity of God's word. That being said, we are now making significant efforts to do likewise with the live video stream. It is a current focus of ours and we are working on making vast improvements.
Next, I know that Wednesday, April 1st, would normally be our communion service. While we won't veer from our regular study through Exodus, we will postpone our communion service until Friday, April 10th at 7:00 p.m. for a special "Good Friday" service. Please join us with your own emblems at home, either a cracker or small piece of bread symbolizing His body, and a small amount of grape juice representing Christ's blood. We can all take together, though separated bodily. Jesus exhorted us to do this as often as we like. Lord willing, it will be the first and last time we are forced to do it this way, but we believe it will a very special moment and memory between all of us and our Lord.
It's been so great to see some of you one-on-one, as you've come in to drop off food or supplies for the food pantry. We have a wonderful church body that is always generous in giving and thinking of ways to care for others. Again, please let your needs be known to us if we can serve you in any way.
Finally, remember this promise we all live by, "And we know that all things work together for good to those who love God, to those who are the called according to His purpose." Romans 8:28
Blessings to you,
The Pastors and Elders
COVID-19/Church Update Friday, March 20th.
Dear Church Family,
As of today, the Governor has mandated a statewide home lockdown. This will take effect Sunday PM at 8 pm. Given that here is what we can do now. We will be broadcasting Sunday AM service. Our live-stream will begin at 10.30 am and the radio broadcast will start as usual at 11 am the radio WZXV.
We also plan on doing a live-stream for our midweek as well next week. The live-stream link is on the main page of our website.
Here's our mindset: we believe the Church needs as much normalcy as possible. So what can you all be thinking about as a body?
In the last couple of years, body ministry has been wonderful. The ministry that happens during the week, isn't limited to the pastors/elders. Now, we need it more than ever so check on each other. Thankfully with tech now, we need to hear each other's voices, and see each other's faces – use Skype, face time, WhatsApp video calls, apps like that. I told the staff "over-communication" is important in times like these. Our teachers in the school and School of ministry are making use of Zoom it's group video and so far is proving effective.
If you have needs, prayer requests, call or email. We will be checking the voicemail and email. But please don't hesitate to let us know.
If you're not connected via email please sign up. The social media links are on the bottom of the front page of our website. People have been asking about continuing to give. Look, we are always low key but it's appreciated. That can be done online at the top right of our website labeled "Give", or you can mail it directly to the church. Our address is at the bottom of our website too.
Pastor Billy has provided the current Sunday school curriculum and Sara has put it on the website. Parents, you can download it and take your kids through it. We will continue to keep that current as time goes on. Again, if you have questions please call or write and we will be blessed to give you a hand. Finally, I've been thinking about this verse and it is so important to remember. 2 Corinthians 4.1 "Therefore seeing we have this ministry, having received mercy, we do not lose heart." Jesus doesn't want us to lose heart. We don't want you to lose heart.
I know the reports/studies show some pretty sobering data. But listen, we have to factor God into the equation. We must not forget what He is able to do.
We've been praying for revival for the better part of 5 years. If people wash more than their hands, but their phones, devices, their lives, if they clean house, and remove the leaven like the feast of unleavened bread and repent, turn to the Lord, He can intervene and FLATTEN THE CURVE earlier than expected.
So let's factor the Lord into the equation. I remember that old saying; "He is seldom early and never late."
After Sunday morning service, the Pastors and elders will be meeting and we will have another update.
Please stay in touch with each other and stay tuned. We love you, God bless.
COVID-19 update Thursday, March 19th
Dear Church Family,
With our Sunday morning services being moved to live-stream and radio we have provided you with links to aid parents in doing Sunday school with their children.
Our prayer is that these tools are a blessing to you and your children!
The Pastors and Elders
COVID-19 update Monday, March 16th
Dear Church Family,
In addition to what has been posted earlier, here are some current updates for this week. Since Governor Cuomo has limited gatherings to no more than 50, and because the Canandaigua school district is closed, the Pastors/Elders have decided the following.
All meetings have been canceled this week to include:
Midweek Study
Teens
Home Groups
Calvary Chapel Academy and any extracurricular classes and activities (Intramural, Chess Club, Drama Club, Open House, and Literature fair)
High School Study Center Apologetics
Little Arrows Playschool
We will be communicating in the next few days what our Sunday morning service will look like. This, most likely, will be broadcast over the radio and live video stream.
Remember the staff is still here during the day ready to serve you as normal. If you have any questions or concerns call us at 585-398-3550.
Thanks again for your cooperation and commitment.
We trust the Lord will bring us through this. Remember what the Lord does from Isaiah 43:1, 2 "But now, thus says the Lord, who created you, O Jacob, and He who formed you, O Israel: "Fear not, for I have redeemed you; I have called you by your name; you are Mine. When you pass through the waters, I will be with you; And through the rivers, they shall not overflow you. When you walk through the fire, you shall not be burned, nor shall the flame scorch you."
The Pastors and Elders
COVID-19 update Saturday, March 14th
Dear Church Family,
As you know, Calvary Chapel is committed to the spiritual health of our congregation. We also want to take the best steps to ensure the physical health of our church body. With the recent rise of Coronavirus (COVID-19) in the United States, our Pastors, staff, and elders are actively monitoring the situation and understand that our families may have questions regarding our plans.
At this point in time (as of Saturday, March 14th ) we are having Sunday Morning services.
Sunday Evening service will be canceled, the Pastors/Elders will be meeting then to seek the Lord about how we go forward as the situation may change.
We are also suspending all Home Group meetings since people are in close proximity until further notice.
Pastor Tony has had the School of Ministry (SOM) students clean and disinfect surfaces throughout the sanctuary, restrooms and lobby including doors handles and counters.
Pastor Billy and our Children's Ministry staff have taken some extra precautionary measures, such as: additional toy cleaning, more frequent sanitizing of the computer check-in station, and continuing with hand sanitizer throughout the ministry area.
All the Pastors have informed servants that if they are not feeling well to stay home. Sunday school teachers, ushers, musicians, and tech servants as well. Even if they are recovering, not contagious but still have symptoms we are having them stay home.
We'd also like to encourage anyone with underlying health concerns who might be wary of large crowds to please feel the freedom to remain at home and listen to the live broadcast at 11 AM on 99.7FM or stream it on http://www.wzxv.org or on the WZXV mobile app.
Additionally, if you or anyone in your family exhibits Coronavirus-type symptoms, we ask that you remain off campus until symptoms subside or until tested through the CDC.
Here are some common sense things from the CDC we can all do:
Practice social distancing no handshaking or hugs. We will not have a meet & greet tomorrow at morning services.
Wash your hands often with soap and water for at least 20 seconds. If soap and water are not available, use hand sanitizer.
Avoid touching your face with unwashed hands. It's a good habit to avoid touching your face as germs can spread through your nose, mouth, and eyes.
Cover your mouth and nose with a tissue when coughing or sneezing. If tissue is not available, cough or sneeze into your upper sleeves, not your hands. Throw used tissues in the trash.
Avoid close contact with people who are sick.
Clean and disinfect surfaces you frequently use such as "high touch" areas in your workspace, car, and home.
We have included a link from the Centers for Disease Control regarding this new strain of the coronavirus (COVID-19) and how to keep yourself safe: https://www.cdc.gov/coronavirus/2019-ncov/community/home/cleaning-disinfection.html
Again, we will continue to monitor this situation and present updates to you. If the situation in Farmington/Ontario County does create greater cause for concern we will communicate our response in detail via email, the Radio station, social media, and the church website.
We don't want to create more concern but we want you to know we are taking the necessary precautions at the same time. Thanks so much for your cooperation in these matters and also in our corporate calling to Glorify God and be light and salt in a very dark challenging time.
Maranatha,
The Pastors and Elders